As I am still working on my "fall colors" quilt, slowly hand-quilting it with Perle cotton #8, I decided to start a new project.
I had the idea of creating "sketches," as Gwen Marston puts it, using different traditional patterns in a liberated way. I would use these small quilts to work out my ideas, but have decided to set that aside for now in favor of an idea I stumbled upon.
As you know I recently had some surgery and wanted to give a little something to my doctor at the follow-up visit. I did not have much time so I decided on a card. My next quilt was going to be made from men's shirting and I wanted to practice the mitered square. I started cutting up the shirts and made a block using a mitered square of the striped shirting, some scraps of fabric and embroidery. I liked it, but could not find an acceptable way to convert this into a card.
When that did not work out I decided on a sachet for one of his drawers or to pack with his woolens during the summer. I used a liberated log cabin pattern in solids and liked it. But I still liked the idea of using men's shirting, so I made another mitered square with a border of solid fabric for a new sachet. I did not like the way that turned out, so I set it aside.
Then the idea of using some ties that I have been saving with the shirting came to me. I made a sachet using a square of a silk tie and shirting. I used the messed up mitered square for the back. I decided it was too small by itself and gave the doctor the log cabin sachet.


Then it hit me. I am going to make a wall hanging using the tie fabric as the center squares in the middle of the scrappy hexagons like the "Crazy Patchwork," (on page 182) quilt in the book "American Quilt Classics" by Patricia Cox. This quilt offers liberated quilting in the patchwork and the opportunity to learn how to do a "y," or "inset" seam. The other design option would be still using the ties as the squares but framing them with strips of shirting. Maybe I see a series in my future…
Finally, check out Odili Donald Odita's work at the Jack Shainman Gallery in New York. Couldn't this be the inspiration for a beautiful quilt! I love the colors.
Look for great colors in paintings or artwork by surfing through the New York galleries from your computer.
Another artist whose work I love is Bill Scott. His work is currently on exhibit at Hollis Taggart Gallery, also in New York. Aren't his colors phenomenal?
Moe Brooker's work is also amazing...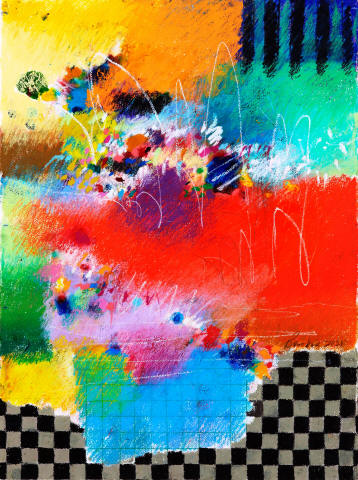 Have a great weekend!
Baci e abbracci...